BOOKR Kids
Let's make reading a habit!
Termékünkről
BOOKR Kids
BOOKR Kids is the leading digital publishing company of interactive books in Central Europe, offering not only a wonderful reading tool for kids, but also providing full-service solutions for publishing houses in content digitalization, as well as a revolutionary opportunity for educational institutions to take teaching to the next level.
Missziónk
With our application, we provide new possibilities for those growing up in the digital age by bridging the gap between reading and the electronic world. Besides the usage of tablets and smartphones, we aim to make literature a basic part of children's lives.
Mi hiányozna, ha elmennék?
Rockstar of the reading class.
Munka-magánélet egyensúly
Ettől különleges a termékünk
Történetünk
2015.04.01

BOOKR Kids is available in App Store and Google Play!

2016.04.11

Official strategic partner with Telekom and Samsung

2016.10.11

Let's go worldwide - launching of our B2B publishing solution

2017.05.11

New clients: KUBU, Cartoon Network, Unilever

2017.09.15

Launching BOOKR Kids in the Czech Republic as BOOKO

2018.07.11

New clients: K&H, Pannontej, Minimax, NN Biztosító

2018.10.01

Launching BOOKR Suli, our educational platform for schools

2018.12.01

Launching BOOKR Kids in China, Norway and in Germany
Hogy szólhatnak bele az alkalmazottak a cég életébe?
Our creative brainstorming sessions allow all of our team members to share their ideas, our final products are the result of continuous collaboration.
Így képezzük a kollégákat
We seize all opportunities for professional development and frequently attend conferences and other specialized events.
Kétszavasok
Most proud of

Team and Product

Favorite decor?

Bookshelf

Superpower?

10 000 Books in 27 languages
Ügyfeleink
Ezt szeretjük a legjobban az irodában
Our spacious office is full of books and inspirational posters lit up by sunshine beaming from every direction.
Tulajdonságok, amiket értékelünk
Empátia, Szorgalom, Tanulni vágyás, Igyekezet, Kreativitás, Olvasó-emberség
Our partners
Working with the best publishing houses of the World is a fantastic experience, especially if your business partner plays an important role historically on the publishing market. We are proud we can digitalize Mora Publishing Ltd's whole repertoire. We are also the official partner of Samsung, Hungarian Educational Research and Development Institute, MasterCard and Telekom Hungary.
Features
All titles are available with read-along word highlighting and narration, enhancements that assist, not hinder the learning process. The stories are available in other languages, helping the children to learn foreign languages and to read in a fun way.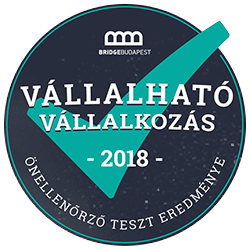 BOOKR Kids
Szerethető Munkahelyek Díj 2017 díjazottja
Szerethető Munkahelyek Díj 2018 díjazottja